Post by dinorocks on Nov 16, 2017 15:25:14 GMT -5
I wanted to share some photos from the annual trapping trip my son Colton and I take up to the North Country each year....I think this was our 5th or 6th trip...need to check my records. Each year, around Veterans Day, we travel up to the Massena area, where I work during the summer, and spend about 5 days setting a few properties we have access to. Our goal was to set quality sets, not quantity, and target a mix of furbearers. We did some scouting over the summer and tried to learn as much as we could in the off season by attending demos, reading, meeting with fellow trappers, and following posts here and at the other forum. When we take a step back and look at where we are this year compared to years past, we couldn't be happier with our progress. With that said, our "success" relative and not measured by numbers but the quality time we spend in the field, the effort we put into putting up our fur, and the respect we give each animal. We have been mentored by some extremely experienced (and generous) trappers that stack up some serious fur and we are grateful for the time they spent with us! This year has been extra rewarding as we are starting to build up enough knowledge to share with others getting into this sport by mentoring and passing on some of the equipment that was passed on to us.
I added a brief captions under some of the photos so you can follow us through our trip...


Preparing our equipment in our trapping shed (which doubles as a greenhouse in the spring)
Extending chain length on some of our drags...there are a couple places we like to set that we cannot drive stakes...we caught a coyote at this location on a drag a couples years ago.
A tally of traps we brought with us on our trip...we brought too many traps again but wanted to have them "just in case"...for K9, fisher, and coon, we ended up setting the MB-550s, KB 5.5s, Victor #3s, Bridger #2s, and a couple Victor 1.75s. We also set a couple fisher boxes using the 155s, 4 110's, and 2 330's. We also had a few dozen rebar stakes (Colton must have been hungry when he listed the cable "steaks".
Setting a hay set...we had three hay sets with zero action.
This is a "before" pict of Colton setting a blind set. The trap was sprung on the first check...
...and a coon was waiting for him on the second check.
We love to see turbid water when we scout for holes... Once the ice came, we had equal success finding holes by looking for air bubbles.
A couple rats and the smile of success!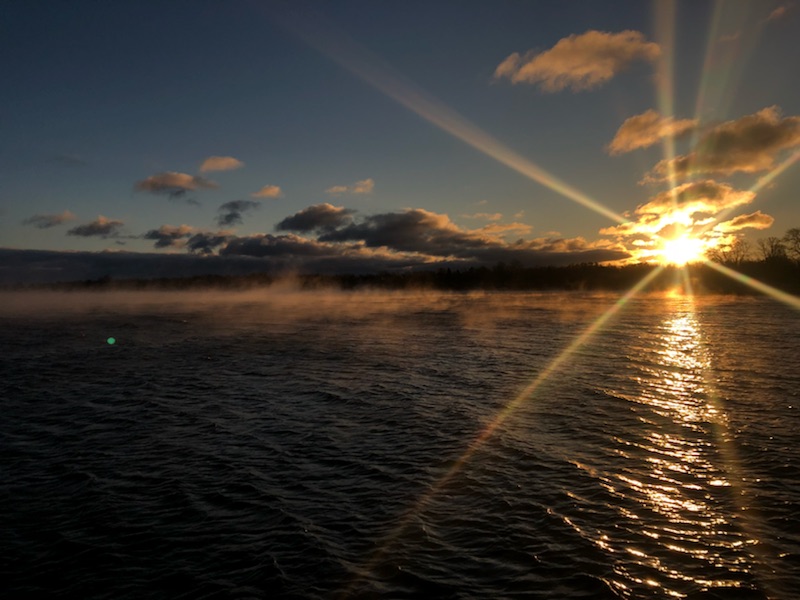 This photo was taken by Colton out the front of our camp before we headed out on our first check! Very inspirational!!
...and a photo taken off the deck of our camp. Note our "trapping shed" in the background.
Our first coyote of the trip caught with Cavens Hiawatha bait in a KB 5.5. He created quite the catch circle! Luckily we used extra long stakes!
Same coyote
Coyote number 2...same bait but with a MB 550.
This was a very big coon that we targeted...
Colton recorded the location of each set along with bait/lure...
One of a couple porcupines...this one was very dark. We called them North Country possums...strangely very few possums in Northern New York...I think the largest populations of possums is behind my house!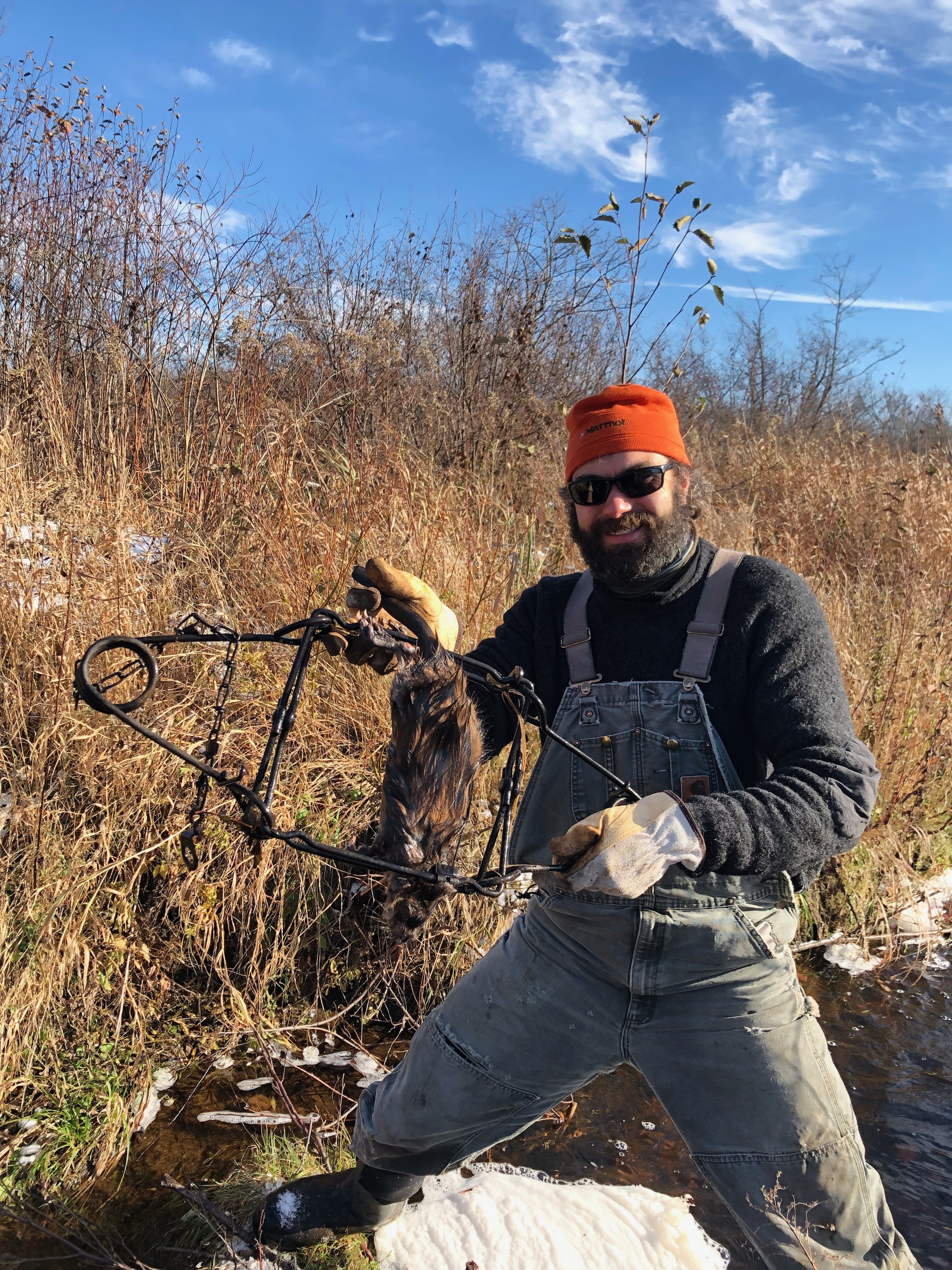 This guy slid out of the trap shortly after the photo.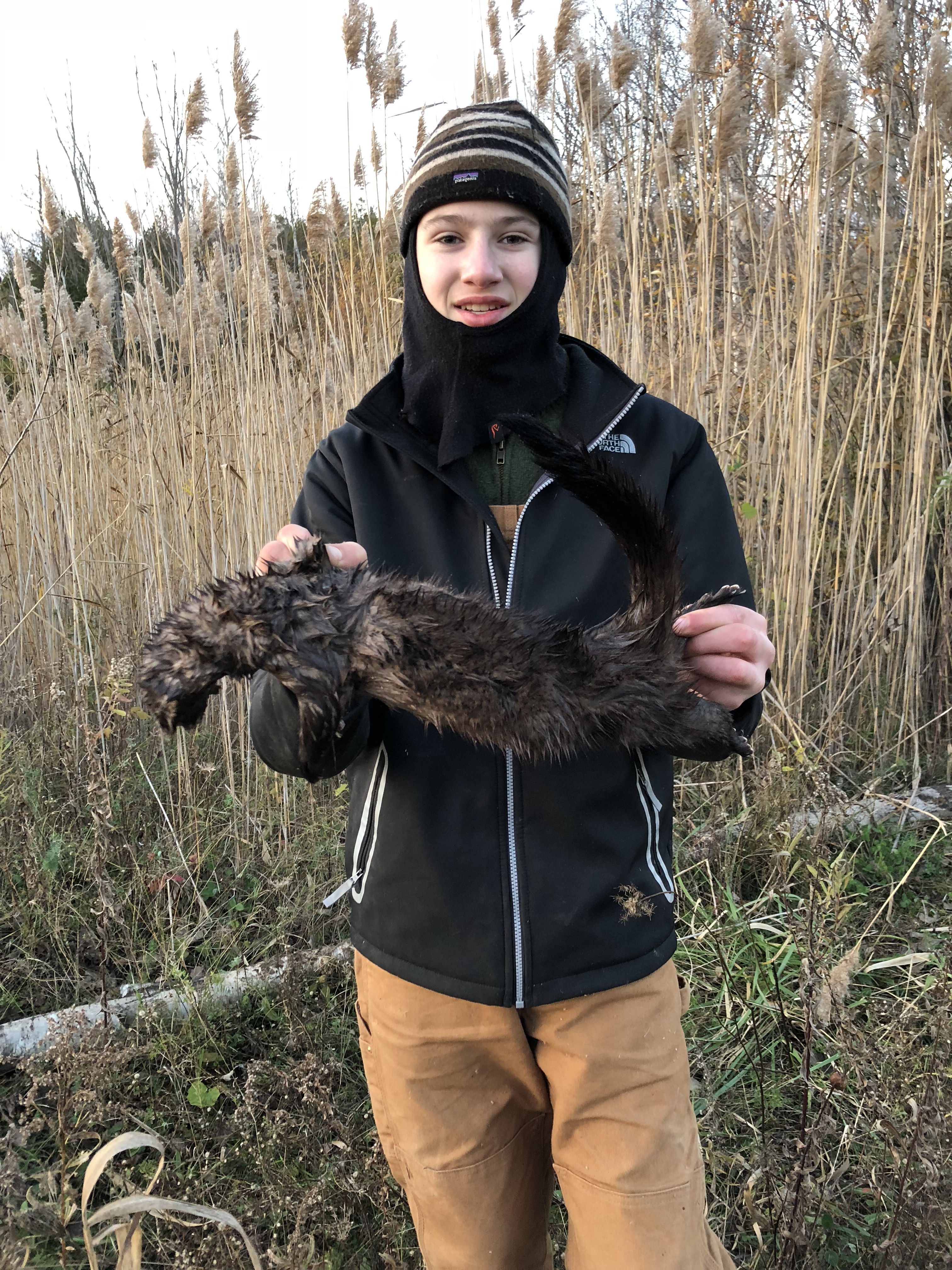 Like I mentioned in another post, we caught this mink within 2 minutes of setting the trap...we were on the board before our first check!
Our first fisher...a female.
Same fisher
Another big coon that was interested in our coyote set. We really wanted to catch a coyote or fox with the Night Owl High Honor lure we picked up at the Herkimer show but still very happy with this guy! I noticed a couple fresh bite marks in the leather while I was skinning him...wonder if a coyote paid him a visit.
Our third fisher caught in the same set as our first...but with a road-killed skunk in the cubby for bait. This guy dwarfed fisher number two (also a male). I probably won't use this type of bait again as the fisher has take on most of the skunks aroma.
A couple nuisance beaver we added to our species list. We intended to eat them but ran out of time skinning other catches...the meat will be used for bait and we will tan the tails for some projects over the winter.
Fisher number 2...a male caught in a cubby with Cavens Hiawatha bait and tree climber lure.
Colton working in his new Case knife he won at the Hawkeye Bowman primitive shoot.
Colton getting a work out on the fleshing beam. If you recall a photo I shared a bunch of years ago of Colton fleshing, you can see he no longer needs to stand on a stool!
I'm not sure who is prouder...me or Colton. He insisted on skinning the fisher with zero help from me... not one hole!!!
Packing up the truck for the long ride home!
six hours later, Colton's sister Carly was anxious to check out the fur!
Some additional fur I caught this week in the few traps we left active.
I noticed that several photos crashed during the upload...which is fine as I think I got a bit carried away with the number of photos I posted.
I hope you enjoyed the photos as much as Colton and I enjoyed our trip...we have already started planning for next year!!
We wish you the best of luck on your trap lines! Be safe!
Dino and Colton
PS. Please try to share some of your photos...check out imgbox...it sort-of worked...shoot me a PM if I can help you navigate through the photo posting site.