Post by dinorocks on Dec 13, 2016 11:42:16 GMT -5
Even with our busy schedules, Colton and I made time to continue our tradition and got up to the North Country for our annual trapping trip!
Like every year, we came with new methods and techniques that we learned from reading the forum, attending trapping conventions, and talking to people who enjoy this sport and other outdoor sports as much as we do! I wanted to say a special thanks to Papa Bear, TMC, Charlie M., and Bob E. for their demos and taking time to mentor both Colton and I…we cannot tell you how much we appreciate your help!

In August and September, we did a bunch of scouting, made some presets for K9s and put out a few fisher boxes. Checking the pre-sets in October we were excited to see lots of sign….all of our sets were dug up and the K9s left us lots of presents (scat). Unfortunately we saw zero muskrat sign in the ponds, small creeks, and swales that we set on in the past so we left most of our water traps home.

After getting our traps and gear cleaned and tuned, we were off to the North Country!


The weather was below freezing in the evening and just above freezing during the day…some of the standing water froze over with a thin layer of ice and we need to scrap the Jeep windows each morning.

We had permission to trap two properties, one of which was part of an old equipment laydown area with some historic and current mining activities (sand, gravel, topsoil), and the other consisted of farm land (hay fields with some hardwoods and swampy areas intermingled)…probably each a couple hundred acres in size.

We focused exclusively on K9 with a few fisher traps set (and bobcat…the only difference is that we used bobcat gland instead of the various K9 lures). Our K9 sets consisted of a mix of dirt holes (various styles), hay sets, step-down, and flat sets. Our fisher sets consisted of boxes, vertical tree sets, and dirt holes. We used a mix bag of lures and baits. Something new we tried was some spiked fox lure…for the first few sets until someone accidentally spilled most of it in the truck (I will not say who in case Colton sees this post).

On our first days check we caught our first ever fisher…we have never seen a live fisher! A male caught in a dirt hole against an old stump! We were extremely excited and shocked at how big it was! After a bunch of high-fives and hugs, we took a few picts, took care of business, and reset the trap.


…and a selfie…



…We also helped our rod and gun club with a beaver issue on the Grasse River.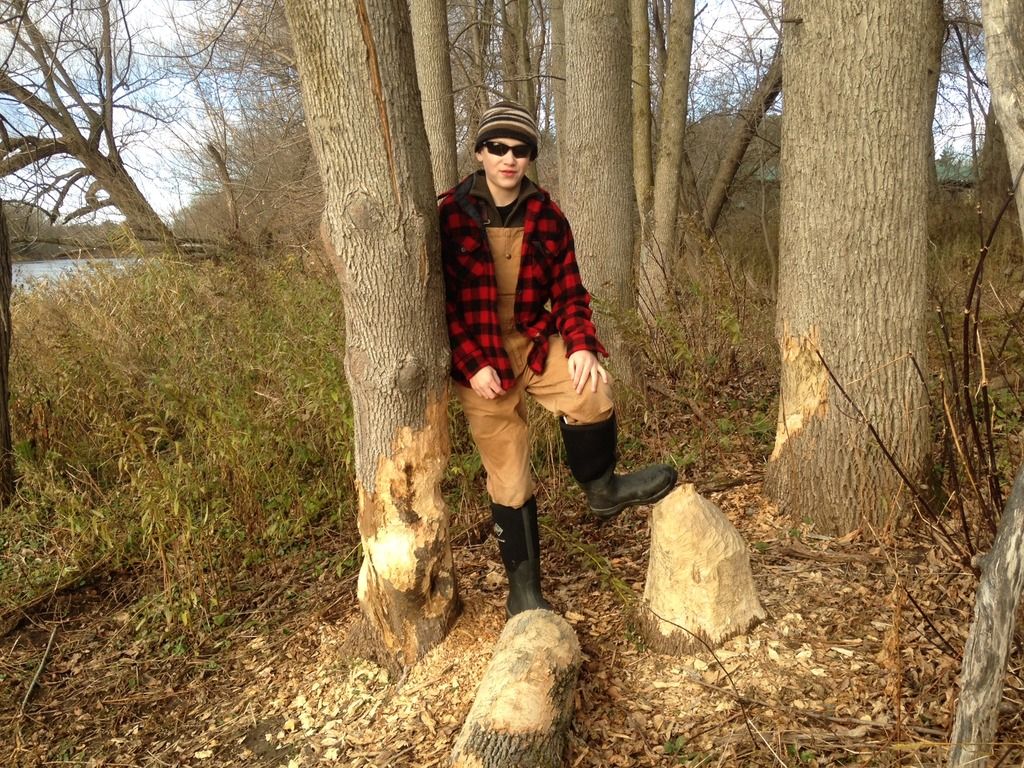 This was especially cool to me as we were probably trapping in E.J. Daily's old stomping ground! And we outwitted the beaver thinking he was real smart as he only had three legs…well maybe he wasn't so smart as he only had three legs…


Our only muskrat (only a couple traps set)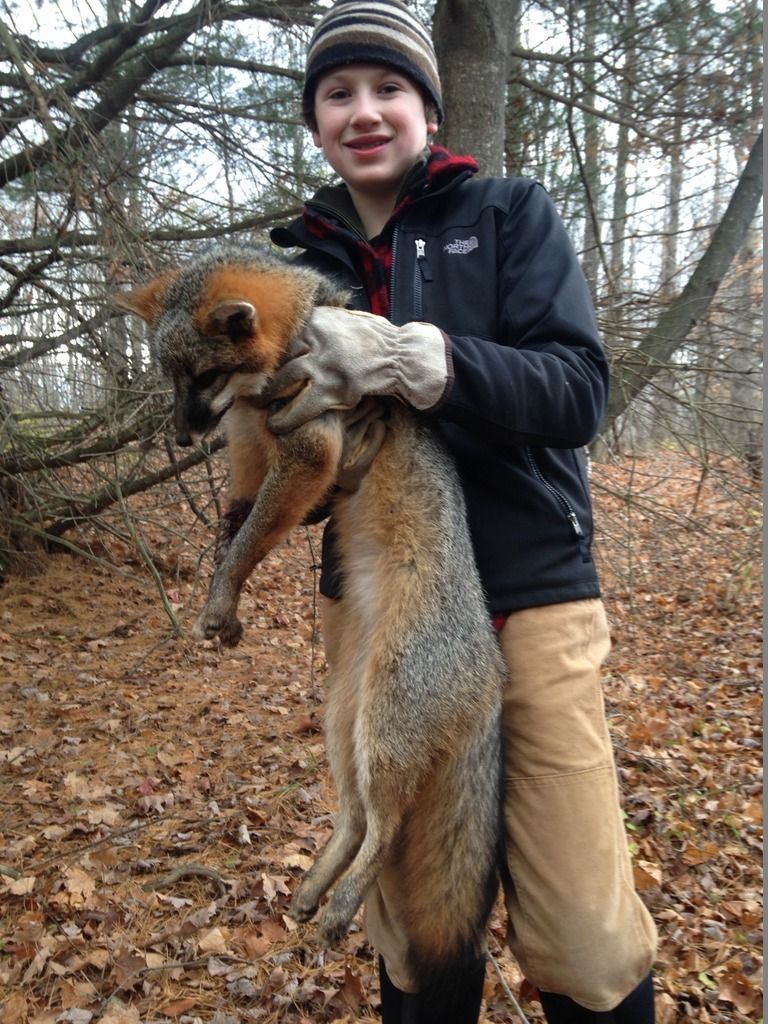 Colton was especially proud of this fox as he found the spot and made the set!

And then there were a few of these! We collected some of the quills/hair for tying flies.

I thought Colton was going to ask to skin the muskrat…he went for the beaver! …and did a great job!

On our next check, we found her in our trap! The same set we caught the male in…

…and on our last day, we finally connected with a coyote! We were much bummed to hear that someone hunted the coyotes hard from around the areas we trapped…I guess that made us feel a little better as we could rationalize that we could have caught more if we beat the hunter to coyotes.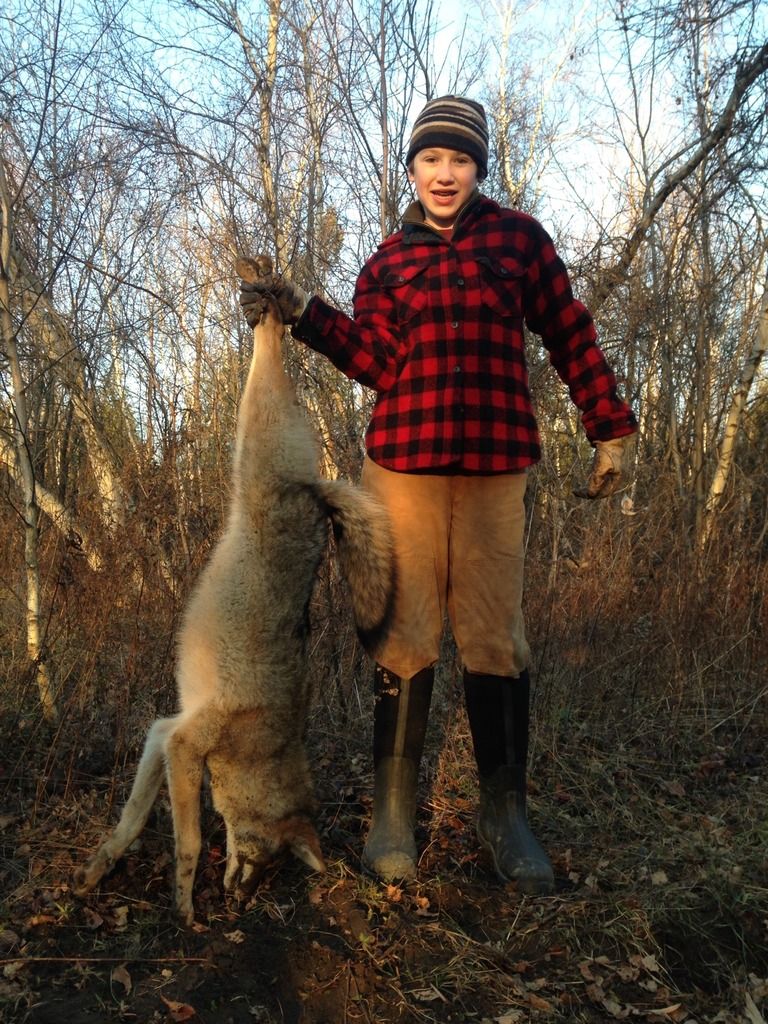 Well the days meshed together and I forget the exact order of the other critters…other than our traditional last day, last check skunk…that always sprays. It made for an extremely stinky ride home!!

All-in-all, we had a great time and created many new memories along the way!



Colton completely exhausted on our long drive back home!

Thanks for looking!
Dino and Colton