Post by TrapWorks on Feb 26, 2009 13:19:13 GMT -5
I know snares are not in use over there, but the time will come shortly when you may...
Ok, here goes.
Here is a pic of one end of my wire board for rabbit snares. I am going to use the metal peg to load the snare. Click the pix to get the full sized versions. You can use a nail, bolt (unthreaded part) or even a piece of wooden dowling in a vice)
Here is the unloaded snare, this is aircraft cable (never again...Bowden all the way from now on!) It is soft and has no shape, you cannot use this unloaded.
This is the link (non breakaway), you can see that the wire immediately before the stop is shaped into a 'swan neck', this should butt up against the eyelet, but in this instance it only hangs, this is because the unloaded snare has no spring to it.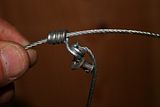 This is what we are trying to achieve.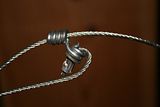 Here we go.
Make a noose 10 inches across (roughly), trap the link (eyelet) between the thumb and forefinger, also trapping the main snare cable at the same time, this keeps the noose at a ten inch spread. The snare is UPSIDE DOWN.
With the other hand gripping the bottom of the noose approximately 6 inches from the link (remember the snare is upside down, so it will be the top wire), offer up the INSIDE of the noose to the nail/bolt/dowel.
Now
gently
see saw the wire backward and foreward two or three times. THEN STOP and check the noose.
If the noose is not done sufficiently, then redo even more gently a couple of times more - remember - you can add more but you cannot take away a bend in the wire.
That is the basics. If you want a
rounder
noose (looks better) then instead of working only 5-6 inches of the wire, work half of the loop. If the eyelet is at 9 o'clock then the other hand should be at 3 o'clock. More pressure is applied nearer the link than the middle of the noose.
;D ;D ;D
Here are three examples of overdoing things - and these were genuine attempts by me (heavy handed) at the start. The first shows where the wire turned in my hands under pressure. The second was loaded in all the wrong places. The third..well what can I say? Numpty!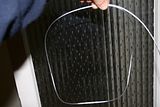 Try this out on the good end of a knackered snare or spare piece of wire first. I cannot stress enough how gentle you must be and remember to keep the wire level, if it twists in your fingers as you load it, the noose will be off center and can collapse, rendering it useless. (as above)
I hope this has helped somewhat and good luck in your attempts.
To finish here is one I made earlier...
All the best to all
T