Post by TrapWorks on Jan 10, 2009 17:55:16 GMT -5
Unfortunately we in the UK cannot use leg or foot hold traps to catch our quarry, we can however use snares, this is a piece about snaring foxes.
My snares are made from 2mm hard steel wire. I use a home made swivel at one end made from 2.5mm fully galvanized wire, the other end has a home made 'breakaway' link devised by Glenn Waters, this too is made from 2.5mm galv wire, and a 'deer stop'.
Because we in Britain have another animal almost comparable in size to a fox which is protected (the Badger) it is advisable to use breakaway snares, although smaller in stature, the Badger is far more powerful and can pull free from a snare that a fox could not. Also this allows accidentally leg snared deer to pull free also.
The breakaway link
The deer stop made from a small steel hex nut squeezed onto the snare wire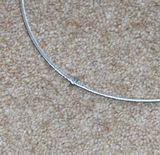 The swivel
We often set snares for rabbits here as a way to control their numbers, in doing so we often attract foxes which then reek havoc with the captured bunnies, we therefore often put out a fox snare at either end of the approach to our rabbit snares.
Here is a good fox run, used almost daily, this one incidentally is about 120 yards from the house! If you look very carefully you will see two fox snares set out, one on each main trail.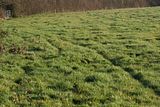 We set the snare around 8 1/2 inches high to the base of the snare loop on short grass, medium length around 10 inches and long grass as much as 12 inches high.
Here you see the loop is set to 10 inches.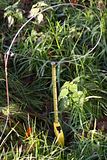 The noose is set directly across and in the middle of the run. The snare can be staked down in the usual manner using either a wire anchor or a stake anchor, here I have opted for a hoop anchor made from copper coated steel, this dulls very quickly and blends in incredibly well. As an aside, we often use hoop snares for rabbits also.
Here you can see the hoop anchor just to the bottom right with the snare in place.
Using your nose as well as your eyes helps a lot here, if you smell a fox you need to ensure you do not set the snare where it is marking, it will only pee on your snare and move one...not pleasant.
This picture is not one of mine. I do not have any pics of snared foxes as I very rarely take the camera out with me, but you get the idea from the picture. The vixen is alive and unharmed in any way if a little exhausted. All foxes are dispatched with a rimfire.
I hope you find this post informative and I hope I explained the basics well enough for you to get the idea.
All the best
T