Post by johnrockwood on Aug 18, 2011 8:31:59 GMT -5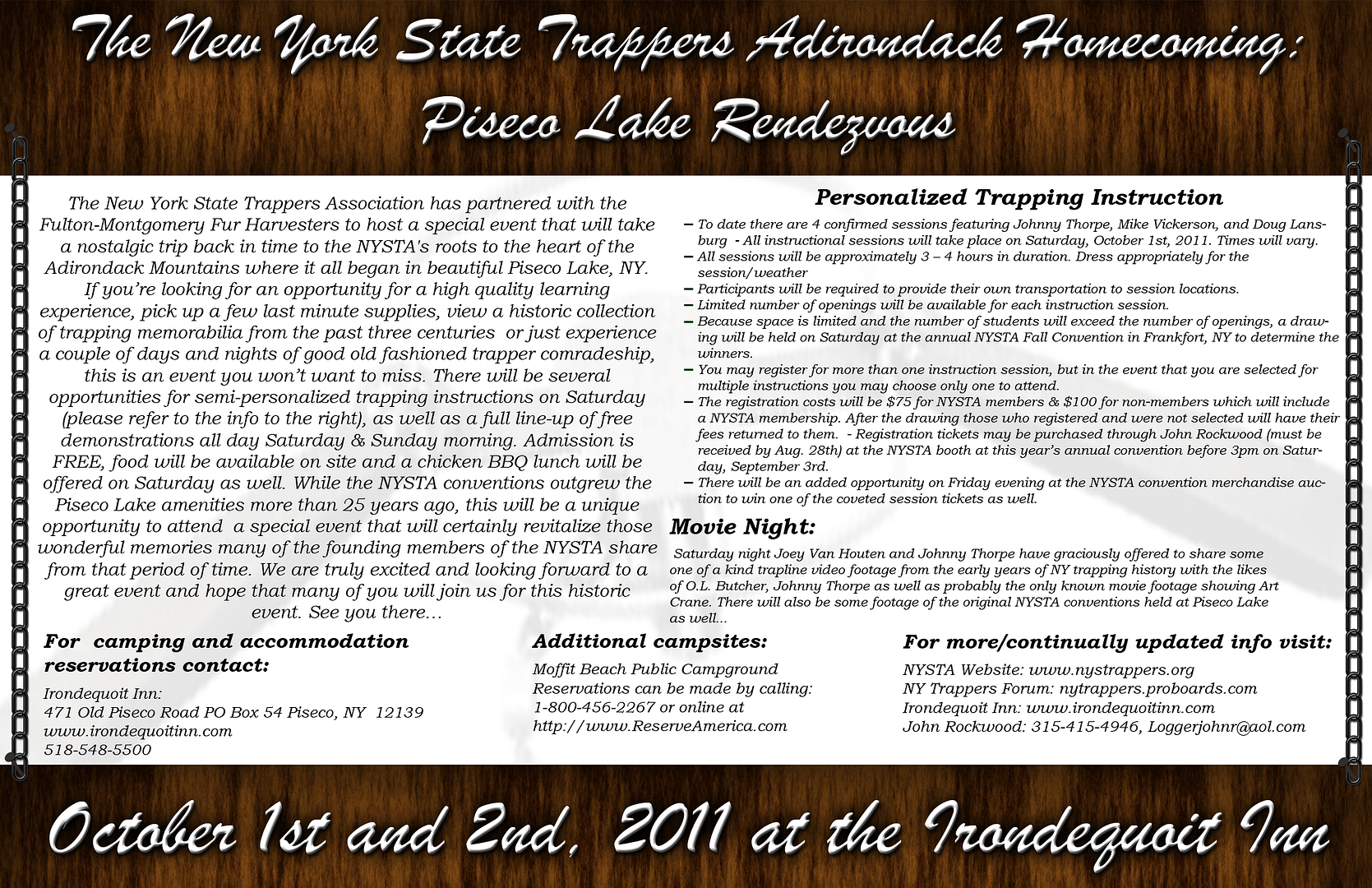 Along with the regular program of demos to be held at the upcoming New York State Trappers Adirondack Homecoming: Piseco Lake Rondezvous on October 1st and 2nd, 2011 are some very special semi personalized "On The Trapline" instructional seminars. Due to space restraints in the advertisements in both the NYSTA Traplines Newsletter and the Trappers Post magazine we could not print all the logistics of this program so here they are. The instructors are all volunteers and the registration fees will all be used to help pay the expenses of hosting this rondezvous. If you've ever wanted to take personalized instructions from a true professional here's your chance to do so at a much reduced rate for a half day. Please take a minute to click on the attachment below and view the program. If this event works out well, NYSTA will plan more such events/programs in the future. Time is of the essence to register for these seminars so please act quickly. Call me at 315-415-4946 or email at Loggerjohnr@aol.com with any questions. Thank you !
John Rockwood, President
New York State Trappers Association
"On The Trapline"
Virtual Trapline Instructions to be held in Conjunction with The New York State Trappers Adirondack Homecoming: Piseco Lake Rendezvous
We have five volunteer instructors for this program doing seminars on at least eight different species of furbearers. They are:
"On the Trapline with Johnny Thorpe" - MINK (4 Students)
"On the Trapline with Johnny Thorpe" - COYOTES and BOBCATS (4 Students)
"On the Trapline with Mike Vickerson" - OTTERS (8 Students)
"On the Trapline with Doug Lansburg" - FISHER and MARTEN (6 Students)
"On the Trapline with John Rockwood" - WATER TRAPLINES w/emphasis on Beaver and Muskrats (6 Students)
Here are the rest of the logistics:
1. All instructional classes will take place on Saturday, October 1st, 2011.
2. Starting times yet to be determined for some. Mike Vickerson's otter class will start at 10:00 am and conclude by 2:00 pm. Johnny Thorpe will do one class in the morning and one in the afternoon.
3. All classes will be approximately 3 – 4 hours in duration. Participants will be expected to dress for the weather and bring their own appropriate footwear. Hip boots are highly suggested ! These instructions will take place irregardless of weather, just like an actual trapline.
4. Since these instructions will require traveling to various nearby locations, participants may be required to provide their own transportation from location to location. Students are encouraged to carpool for efficiency and logistical reasons.
5. Preregistration is Required.
a. The overall logistics of providing this type of demo dictate that only a small number of students will be accepted in each class as outlined above. We expect that there will be many more trappers registering for these events than what there is room for. Therefore, in fairness to all who may wish to participate, a drawing from the tickets of preregistered individuals will be held to determine who the lucky students/attendees will be.
b. Registration tickets will be sold to anyone wishing to attend one of these "On the Trapline" instructional seminars., but again, a drawing will determine whether or not you actually attend.
c. You may register for more than one seminar, but you will only be able to attend one in most cases because many are being held simultaneously.
d. The cost of registration tickets is $75.00 per class for NYSTA members or $100.00 per class for non-members. Non-members will receive a NYSTA membership along with their instructions if they win a spot in the class. We will return the registration fees, by mail, to all registrants who do not win a spot in the class of their choice as soon as all the winners for each class are determined and confirmed.
e. Registration tickets for the drawing are available in two ways. First, from me, John Rockwood, President, New York State Trappers Association by mailing your personal check to me at 114 County Route 30A, Williamstown, NY 13493. Checks must be made payable to NYSTA and you must tell me which "On the Trapline" instructional program you are applying for. You must also be sure I have your complete name, mailing address, phone number, and email address if you have one. If you are going to preregister by mail in this way, I must receive your request and your check on or before August 28th, 2011. The second way you can register is to purchase your tickets at the NYSTA booth at the NYSTA Annual Fall Convention at the Herkimer County Fairgrounds in Frankfort, NY prior to 3:00 pm on Saturday, September 3rd, 2011. Please be sure and supply all the same information there as you would if registering by mail. Announcements will be made throughout each day of the convention advertising this opportunity.
6. Winning tickets for all except one spot at each "On the Trapline" instructional class will be drawn at the NYSTA booth at our NYSTA Annual Fall Convention on Saturday, September 3rd, 2011 at 3:00 pm.
7. One more way to win ! One opening for each of the different"On the Trapline" instructional classes will be auctioned off at the NYSTA Annual Merchandise Auction. This auction is held every year at the NYSTA Annual Fall Convention. This years auction will be held on Friday, September 2nd, 2011 starting at approximately 7:00 pm. The minimum acceptable bid will be $75.00 for each of these openings. If a non NYSTA member wins one of these openings at the auction, that person would be required to pay an additional $25.00 above their final winning bid to obtain a NYSTA membership as required for registration. If any of these openings are not successfully auctioned off, then those openings will be filled at the scheduled drawing on Saturday at 3:00 pm along with the others. Anyone purchasing a spot by auction will need to furnish all required contact information to NYSTA at the time of the auction.
8. All winners will be notified by mail and/or by phone and their names will appear in the next NYSTA Traplines newsletter.
I would like to make mention of the fact that each one of our volunteer instructors for these "On the Trapline" instructional classes are expert trappers with tremendous experience in their field. Many of them are taking you for instructions on their own personal traplines, right there in the Piseco Lake area. They will be showing you exactly where they set traps, why they set them there, and how they set these locations up for maximum success so that you can put that knowledge to good use on your own traplines. There is no better way to learn and no better trappers to learn from. The NYSTA sincerely appreciates their help in providing this type of advanced trapper training for our members.
If anyone needs further information, and/or to preregister, please feel free to contact me.
John Rockwood, President
New York State Trappers Association
114 CR 30A
Williamstown, NY 13493
Phone: 315-415-4946
Email: Loggerjohnr@aol.com