Post by Denny Emery on Jul 5, 2010 9:14:35 GMT -5
A little story of my first coyote...
After being out of the trapping circuit for a number of years I decided a couple years ago to get back into it again. I had read a couple books on coyote trapping, got some advice on another trapping forum and headed out to do some scouting.
The layout of the land around here is woods and fields interspersed throughout with no real outstanding features to key in on so I just started looking for places that I thought looked "coyote" but now that I look back on it, I was looking more for structure more geared to fox. Anyhow, I found this old road that had scat and a single track on it and deciphered the sign to be coyote. I thought "Hey I just found an actual location! Yeah!!
Even found some pumpkin poop!
I continued to monitor this spot for a few weeks hoping to find some more droppings, which I did but it was very sporadic AND it was there. Upon the confirmation of the spot I really started to get excited about it. I was getting permission from as many land owners as possible in the area. One guy was telling me of a coyote den on his property but wouldn't let me trap. No problem, my "find" was just over the hill... I was set!
Got the traps tuned, dyed and waxed.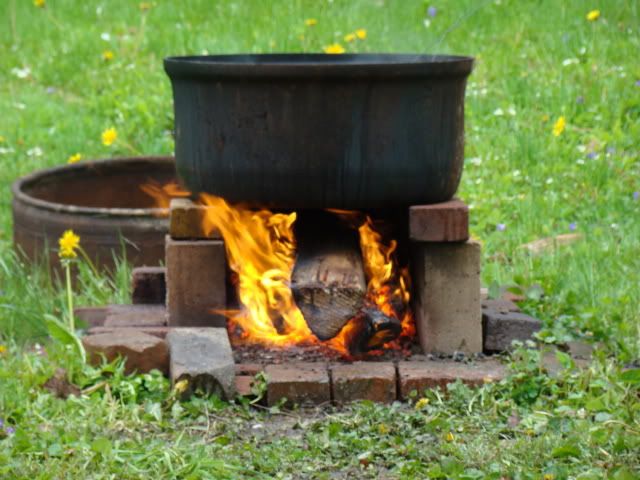 First day of season comes and I am ready to lay some steel! I ended up being the monkey trying to screw a football! Sheesh!
Finding the exact set spot seemed like a dilemma to me, not seeing the forest for the trees. "That spot looks good"..... "No that looks better".... my indecision was killing me!!! I ended up just picking a spot in between the road and putting a set in. Now this road was not just any road but a road that leads to a gas well. This roads base was nothing but shale!! Digging in shale sucks! I had a makeshift trap bed made but there was always this or that "little rock" that seemed to make the trap a little wobbly. Try to take it out only to find it was the size of a softball. I thought "heck with this!" and decided to try elsewhere. The cable stake holds really, really good I find out.... OK, the trap is going in here after-all. Sweat was starting to drip. Here we go again...
Got the bed as best that I could and found some "workable" dirt close by to get as good of a bedding as I was going to get. Packed it in and got it blended. Added a dropping and some lure. Stood back and admired my work. "Not too bad" I thought.
Before
After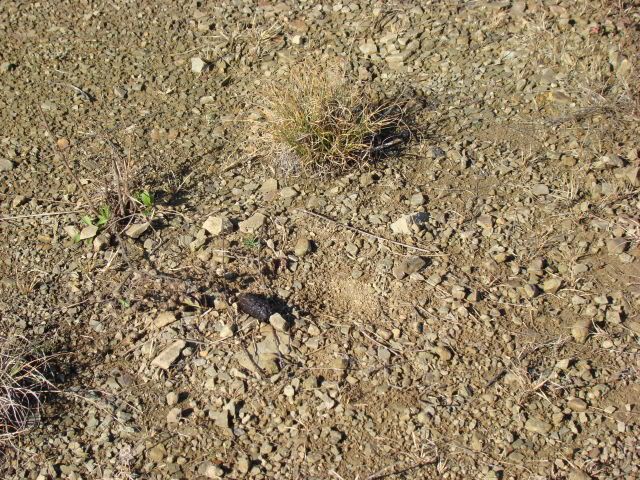 I don't recall how long it took to put this trap in but it was a L-O-N-G, L--O--N--G time.
Night came and I had high hopes! Sleepless night but morning came finally.
Heading up to my set, my anticipation was high! I was sitting up higher and higher in my truck the closer I got!
NOTHING! Dang it anyhow.
4 days of "NOTHING"! Now I was second guessing the sign I had scouted out. "What did I do wrong?" I didn't touch anything or go near the set...
That night the weather changed, it was cold and blowing. One of those winds that you could just barely hear. I got to where I had been parking, got out and thought I heard chain... nah, must be the wind and my enthusiasm was waning. I started towards the set and heard the chain sound again! Still uncertain of what my ears were telling me although I did hurry a little more and shined my flashlight a little farther ahead than normal.
"What's that? Eyes?? Holy crap I caught something!! It's a, a COYOTE!!" WOW!!!!!
I was overwhelmed and humbled to say the least. I did it!!! I caught my very first coyote!!!
Here are a few pics of my first....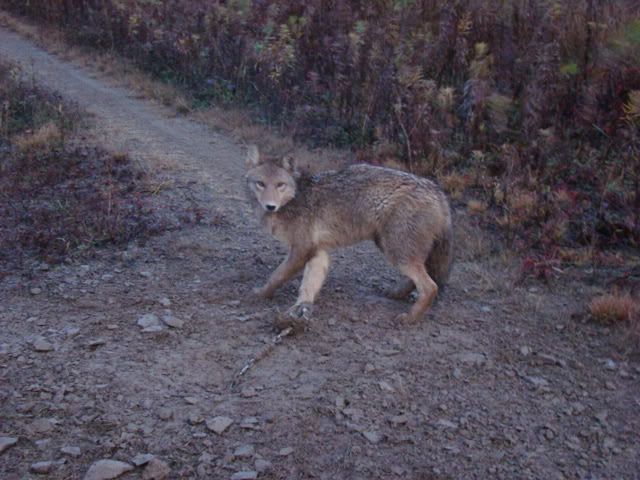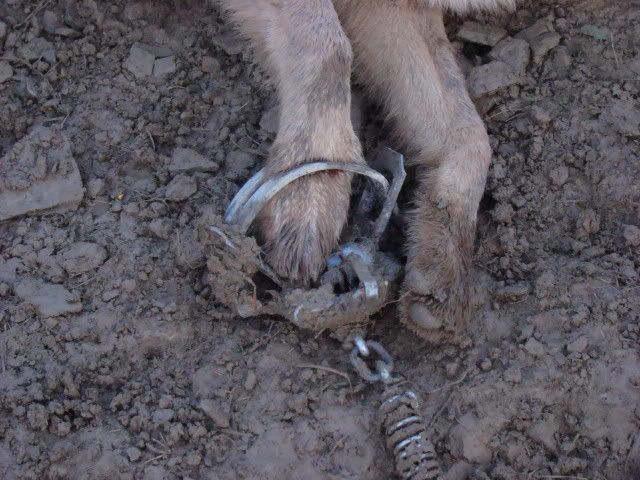 The point I am trying to make is never give up and believe in what you have done! It may take a little time but you gave it your best shot!
Thanks for reading everyone.
Denny